Have you seen the movie Hidden Figures? If not, it's worth a watch. Much inspiration to be had!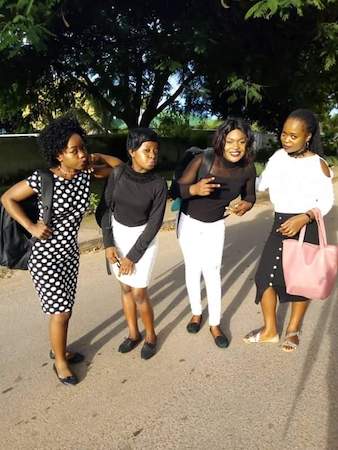 Whenever I look at this recent photo Theresa sent us of Rachel, Sylvia, Esther and Mirriam, our pioneer Living Compassion college attendees, I think of the amazing women depicted in that film—the courage, the perseverance, the intelligence; the guiding light they are for their community (planet Earth!), and the sense of delightful adventure, I project, they bring to it! 
As practitioners of awareness, this is probably a list of projections we could safely own.
We are midway through a short, fun "booster" for the project in Kantolomba.  We're inviting 100 folks to join us as "MODOs" (monthly donors) at $10 a month.  Listen to the Good News Update where we explored the inspiration behind the campaign, and check out the weekly emails sent this month laying out updates both on the progress of our goal to 100 as well as on the project itself.
Our stellar pioneer college women exemplify what this boost of steady, monthly funding will accomplish in Kantolomba.
In Gasshō
Jen