In the Going Beyond Fear, Resistance, and Limitations retreat, we meet each Sunday night, currently, to study with Epictetus. In the section on "no shame and no blame," we were looking at if there's no blaming others and there's no blaming ourselves, no judging others and being beaten for being judgmental, we are squarely positioned to see that the source of our difficulties, problems, and suffering is the punishing, dualistic conversation in conditioned mind. We can say, as shorthand, what's wrong is ego. That's what's doing this, that's what's causing suffering. It's not "them." It's not "me." It's ego.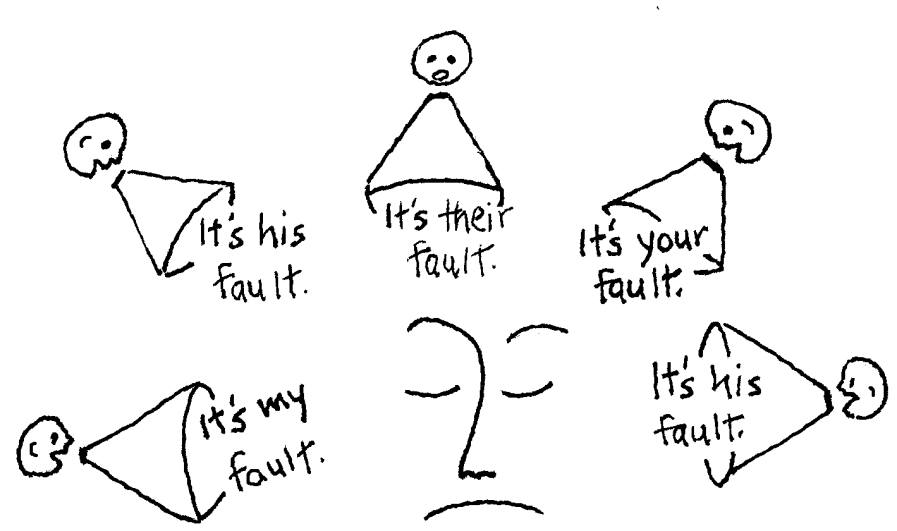 We are not doing this in a "the dog ate my homework" or "the devil made me do it" way, which is what ego would jump to immediately. "Oh, sure, so you're not going to take any responsibility for your actions, for what you say and what you do." That's not what we're saying. What we're saying is that the source of all "what's wrong" is conditioned mind. Ego. The voices in the head talking about what's wrong, pointing imaginary fingers, judging.
If I do something that is "unskillful," and I get it that I, the authentic, awake, present human being, was not there, that I went unconscious, that the ego system took over, acted out, then did the "one, two, three you are now awake" trick of the hypnotist and began to beat me for what happened; if I catch on that that's the process that's going on, I have increased my chances of not getting fooled into letting it put me to sleep in the first place.
Is this something we get one day, and that's that? No. It's a practice process. It's practicing stepping back, disidentifying from that ego identity, and seeing it as something "separate." We are realizing it is an illusion that is separate from Life. That's what we're catching on to. We are realizing "that's what I thought was me, but it's not."
This is how we practice having an experience of Authenticity. Disidentified from that conversation, we realize "my actual experience of me is the awareness that is observing the process. I'm not thinking those thoughts or saying those things inside my head—I'm watching that happen."
Before this clarity, we have been looking through conditioned mind. Listening to the conversation, believing "that's me thinking," we have allowed ego to direct our experience of life. Now, rather than looking through conditioned mind we are looking at conditioned mind.
And here's the best part of all: With practice we realize we can be aware of what's happening in conditioned mind along with everything else that's happening. Our awareness is expanded. I'm here. The sun is shining through the pine trees. An airplane is going by far above. The sky is blue with puffy clouds. The colorful strips hung to keep birds from crashing into the windows are gently moving in the breeze. The next thing to type comes into the mind. A thought about the time flits through….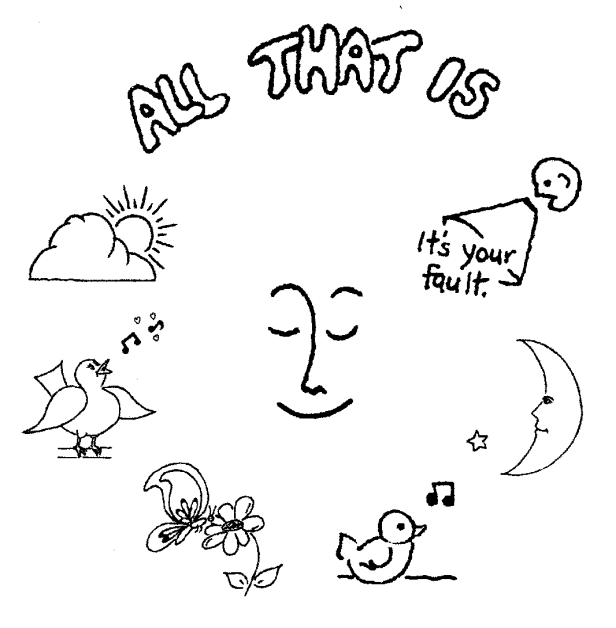 I don't need to get pulled into a conversation in conditioned mind about the time or anything else. It's all happening simultaneously, and in conscious awareness it all simply is.
It doesn't take long to see this once we know what we're looking for.
In gasshō,
Ch